Gifts for the Man who has Everything
December 1, 2012
When the holidays roll around, you may find yourself at a loss when it comes to finding a gift for the man in your life. He probably tells you that he has everything he wants and needs already – which is, of course, always a safe answer, but certainly not helpful in this situation. Moduline Cabinets has exactly what you need to give your man when he refuses to tell you what he wants. One of our quality, storage cabinets or accessories is the perfect present for a man that already has every other thing he needs. If you want to let him choose exactly what he wants from Moduline, we also have gift certificates available. Whether he adds to his existing Moduline cabinets or just wants to start organizing his workspace, a Moduline Gift Certificate will be a very welcome gift.
The man in your life probably has a huge collection of tools, parts and supplies. He stores them in the garage, in toolboxes and on his workbench. You may even find them scattered throughout your home. Buying him a tool cabinet or storage accessory will give him a specific location for his tools, parts and supplies. Tools are an expensive investment and they deserve to be protected. Our Mobile Tool Boxes come with drawers of various sizes – so, he will always have his tools and supplies organized in one location and within easy reach, no matter where he is. Take him at his word when he says he has everything he needs – then, buy him a storage cabinet or accessory and bask in the glory of a choice well made.
If you have any questions, let us help you decide on the perfect gift – call 888-343-4463.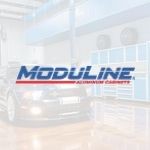 Moduline Cabinets
Moduline Cabinets provides military-grade aluminum cabinet solutions for car enthusiasts and professionals for over 30 years. Our designer appearance enhances garages and shops, and our cabinets stand up against the daily rigors of any environment.