Get Ready for Spring Projects
March 16, 2013
Even though the weather outside has been frightful, spring is still on its way. Now is the perfect time to start prepping your garage for the warmer weather. Warmer weather means more time for projects that were stored over the winter. Warmer weather also means a time for gardening and other yard work. You can expect your plate to be quite full once spring sets in , and Moduline Cabinets is here to help make your load a little bit easier to carry.
The following tips will help you during your first round of spring-cleaning.
Sort all of your items into keep, trash, and donate piles. This lets you see at a glance how much stuff you're going to have to find room for inside your garage.
Use the five-second rule when deciding what to do with a particular item. This means when you pick an item up, you have five seconds to decide whether to keep it, toss it, or donate it. You'll be amazed at how quickly you can sort through items using this rule.
Let us help you with your cabinetry needs
We manufacture a huge assortment of garage storage cabinets that will help you turn your messy garage into an organized, functional workspace. With our cabinetry, you can have a place for everything, from every last nail and screw to your large, cumbersome tools. Keep all your valuable possessions safe and organized within the confines of secure storage cabinets. Best of all, our cabinets come in a variety of colors, shapes and sizes to help you create that one-of-a-kind look you always wanted for your garage. Click here to view the many different types of cabinets available and then contact us to let one of our experts help you choose the best cabinets for your application.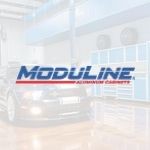 Moduline Cabinets
Moduline Cabinets provides military-grade aluminum cabinet solutions for car enthusiasts and professionals for over 30 years. Our designer appearance enhances garages and shops, and our cabinets stand up against the daily rigors of any environment.