Garage Transformations with Storage Cabinets
March 9, 2013
If you have decided that it is time to give your garage a makeover, you came to the right place. Here at Moduline Cabinets, we have what you need to turn your garage into an organized, beautiful workspace. By the time you're finished, your garage will practically be a work of art. Our quality aluminum storage cabinets, along with our various other storage items and accessories, will transform your garage from a drab, bare building into a sleek, functional space – a garage that is perfect for completing projects, such as rebuilding a car or even building a playhouse for your child.
Our cabinets are completely modular – this means that you can mix and match various cabinets to create a layout that fits the space of your garage, as well as your particular storage needs. In other words, you will not be forced to have cabinets that you do not need inside your garage simply because they are included. You can pick and choose the garage cabinets and storage that you want. Moduline aluminum garage storage cabinets are made for the garage. They withstand the temperature fluctuations, as well as the moisture and last a lifetime. Contact us today to learn more about the benefits of our aluminum garage storage cabinets.
Call Toll free: 888-343-4463.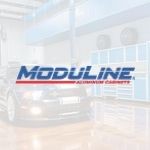 Moduline Cabinets
Moduline Cabinets provides military-grade aluminum cabinet solutions for car enthusiasts and professionals for over 30 years. Our designer appearance enhances garages and shops, and our cabinets stand up against the daily rigors of any environment.