Garage Cabinets Ideal for Storing Holiday Decorations
January 5, 2013
When the holiday season comes to an end, you are left with putting away all of the holiday decorations. Most likely, these decorations will wind up in your garage. If your garage is stocked with plenty of storage, it won't be a problem to store the decorations for another year. However, if you have no storage space, you will end up with boxes and tubs stacked up against the walls. This can quickly lead to a cluttered garage, making it difficult for you to accomplish any tasks. You could even run out of room for your belongings, such as lawn equipment, tools and your car!
The best way to store your holiday decorations and keep them protected until next year is with garage storage cabinets. Wall cabinets, base cabinets even closets will provide you with ample storage space for decorations, as well as for various other items that need to be stored. Contact us today, and have a look at our wide selection of garage storage cabinets – we will help you with a design and layout that will have your garage organized with style.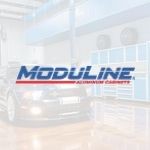 Moduline Cabinets
Moduline Cabinets provides military-grade aluminum cabinet solutions for car enthusiasts and professionals for over 30 years. Our designer appearance enhances garages and shops, and our cabinets stand up against the daily rigors of any environment.