Garage cabinets are a perfect choice for a laundry room
November 28, 2012
Washer and dryer manufacturers in the twenty first century are designing products in striking colors and ultra modern designs. If you haven't visited a retailer lately, drop in and see these strikingly new and energy efficient appliances. To maximize the space in small laundry rooms inside the home and help relieve back strain, there is a strong trend toward front loading stackable designs. A benefit of switching to stackable units is it frees up the area occupied by the dryer. Take advantage of this open space and to compliment the appliances, install a 24" or 30" wide base and overhead cabinet to help make wash day easier … and what better product to select than a modern looking aluminum metal storage cabinet to compliment the new look of these appliances. The fashionable and modern look of today's garage cabinets no longer relegates them to where we park our cars.
By selecting garage cabinetry manufactured from 100% aluminum and finished in high gloss enamel to compliment the color of the appliances, the high tech look will fit right in. Aluminum cabinets are lightweight and very easy to install as a DIY homeowner project. Shipped fully assembled; they are assembled at the factory employing high tech permanent fasteners for a lifetime of trouble free service. Free of any type of wood product, there is never a concern over water or moisture damage, rust, corrosion, sagging shelves or deterioration. All aluminum cabinets do not attract dust or cause static shock, are highly resistant to mold and mildew and completely hypo-allergenic. The base and overhead cabinets have plenty of room to store the largest containers of detergents, bleaches, softeners, stain removers and such out of sight yet ready for use. The addition of a full extension pull out shelf in the base cabinet makes it even easier to utilize the full storage capacity of the base cabinets while providing easy access to items in the rear. No more straining to reach for that heavy container of detergent on an overhead shelf above the washer. Adding an aluminum countertop, with integrated backsplashes and turned up sides, is perfect for folding the clean laundry, is easy to keep clean and will look great for years to come. An added benefit of the upturned sides of the countertop is it helps to prevent that errant sock from falling in that hard to reach space behind the washer or dryer. Attaching a hanger rod under the overhead cabinet is handy for holding hangers ready for those items fresh from the dryer. Many base cabinets have a single drawer with dividers that is perfect for storing small items. Modular in design, units are available in several standard base cabinet depths of 18", 24" and 30" to give the homeowner flexibility in selecting the right size for their home.
Liven up the laundry room with fashionable cabinets and work area to compliment the new look and colors in washers and dryers. Improve the ergonomics at the same time to make laundry tasks easier.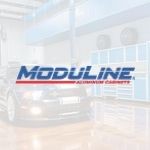 Moduline Cabinets
Moduline Cabinets provides military-grade aluminum cabinet solutions for car enthusiasts and professionals for over 30 years. Our designer appearance enhances garages and shops, and our cabinets stand up against the daily rigors of any environment.