Find extra storage space on the side of your garage
May 29, 2011
New Sliding Door Garage Storage Cabinets from Moduline.
That space on the garage side wall under the door track is no longer wasted. Our customers asked for a sliding door set to fix the problem and we responded. Now this area can be used for all kinds of storage. No doors to open into the side of your car, no worries about leaving a door open. Most overhead door tracks are located within a foot of the wall and these cabinets fit the space perfectly. They can sit on a stem wall or go to the floor. An easy glide mechanism is used to allow the doors to slide completely over each other and allow plenty of easy access. We also have a heavy duty shelf available for use in these new 48″ wide cabinets. You'll be amazed at the amount of storage space in each cabinet.
Great storage space for rakes, shovels, brooms, weed wackers, etc. on the side walls of garages
Recessed handle and heavy duty roller slides for smooth operation.
Felt lined guides for smooth and quiet operation
Perfect way to add storage cabinets on side of garages and still open doors when vehicles are parked
Easily mount on top of stem walls to make use of otherwise wasted space
Organize your garage with style and simplify your life!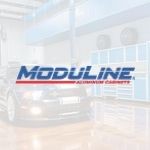 Moduline Cabinets
Moduline Cabinets provides military-grade aluminum cabinet solutions for car enthusiasts and professionals for over 30 years. Our designer appearance enhances garages and shops, and our cabinets stand up against the daily rigors of any environment.