F1 Boston – Moduline Christmas Party
December 23, 2013
Once again, the Moduline Christmas party was a heck of a lot of fun. We again chose to have it at F1 Boston, an indoor karting venue which is also host to a bar, restaurant, billiard tables and conference center. Under the umbrella of the MBA Group and lead by President/CEO, RJ Valentine, F1 Boston really does a fantastic job at hosting parties of various sizes as well as just a fun night out with friends or business associates. Not only is it fun but it really is a great team building experience for businesses as well. They know karting and they know racing in general and that's why Moduline has our Holiday parties there year after year after year.
For those racing, we started the night with a safety briefing and then suited up for 3 races on one of two world class indoor tracks. For those who didn't race, hors d'oeuvres and cocktails started the night. Upon completing of the final race, everyone was able to participate in the food and beverages and just relax. The cool atmosphere as well as friends and family all made the night a great way to celebrate the holidays and celebrate another fantastic year for Moduline. We want to thank the folks at F1 Boston for another job well done and we look forward to spending more time on the kart tracks next year. Merry Christmas and Happy New Year to all!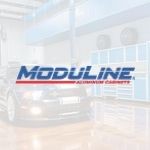 Moduline Cabinets
Moduline Cabinets provides military-grade aluminum cabinet solutions for car enthusiasts and professionals for over 30 years. Our designer appearance enhances garages and shops, and our cabinets stand up against the daily rigors of any environment.