Every home needs storage space
September 21, 2013
Storage space is what every home needs and no one seems to have enough. The reality is you may actually have the space but not the right cabinet system to help the space be utilized to its fullest capacity or potential. Then there is also the issue of creating the space with the right look. Having a storage solution is great but if it isn't esthetically pleasing, you still have an issue.
Moduline cabinets do help you accomplish both. Moduline, a modular storage cabinet system helps to get any space organized and utilized both efficiently and with style. Moduline cabinets have been spec'd into some of the finest homes and garages in the world because not only are they professional grade, they have a designer appearance and really can help increase the appearance and value of a home. From the base cabinets and drawer cabinets to the closets and wall cabinets, Moduline has all the styles and sizes you need. We can design an efficient and beautiful cabinet system for virtually any space.
The bottom line is that you have more space than you think. Let the professionals at Moduline help you to figure out and design a system that will work for you.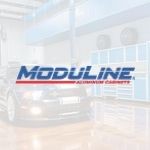 Moduline Cabinets
Moduline Cabinets provides military-grade aluminum cabinet solutions for car enthusiasts and professionals for over 30 years. Our designer appearance enhances garages and shops, and our cabinets stand up against the daily rigors of any environment.