Enclosed Trailer Cabinets Work Well in Small Spaces
July 20, 2013
Creating a functional work space inside an enclosed trailer can be useful for many industries. For instance, the construction industry can utilize the mobility of an enclosed trailer. They can take the trailer from one job site to another and always have a workspace within the trailer. However, enclosed trailers do not come equipped with everything necessary to create a usable workspace. An enclosed trailer comes with a floor, walls, a roof, and a door. To create a workspace, you need to make some upgrades to the trailer. The best way to create a usable workspace is by installing enclosed trailer cabinets.
Cabinets designed specifically for enclosed trailers are going to fit much better than other types of cabinets. You will not have to worry about making adjustments to the size of the cabinets, because enclosed trailer cabinets are made to fit trailers from large to small. Here at Moduline Cabinets, we offer a wide selection of aluminum trailer cabinets, as well as numerous accessories, that are perfect for the small confines of a trailer. You can choose from wall cabinets, base cabinets, and corner cabinets for your trailer – all available in a wide range of colors. You can also add accessories, such as folding workstations, toolboxes, and even a sink. All of our products work in perfect harmony to create a functional workspace for inside your trailer. Contact us today to learn more about our enclosed trailer cabinets, accessories, and other useful products, including garage storage cabinets. We have everything you need to create workspaces in a variety of locations.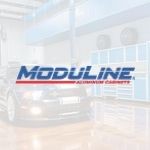 Moduline Cabinets
Moduline Cabinets provides military-grade aluminum cabinet solutions for car enthusiasts and professionals for over 30 years. Our designer appearance enhances garages and shops, and our cabinets stand up against the daily rigors of any environment.