Determine What You Need when Ordering Garage Cabinets
October 5, 2013
Planning your dream garage is easier than you might expect. Modular aluminum cabinets are an investment you will enjoy for as long as you own your home. Your choice of Moduline is a first step in turning your dream into reality. To help ensure your satisfaction with our cabinets, we recommend you follow these key steps.
Consider How You"ll Use the Space
Will you be using these cabinets entirely for storage? Will you need your cabinets to be mobile? Are you going to be doing heavy duty work? These are just a few of the questions that you'll want to consider before you order your cabinets. Understanding how you'll be using the space will also help you answer key questions like, "Do you need larger closet-style cabinets ?" or "Will you want more drawer space, or need a mobile tool chest or parts bin ?"
Measure Your Space
Moduline cabinets come in a wide variety of sizes. But if needed, many of our pieces can be customized to fit your space. To help ensure your satisfaction, be sure to measure your space carefully. Pay particular attention to any doors and windows. You'll also want to decide if you want single-door cabinets to open with a right or left-hand swing. And, if you're installing cabinets along the wall, be sure to consider the clearance above and below the cabinets as well as your desired depth. For example, for overhead wall cabinets, consider the depth carefully to be sure they are useful but not in your way when working on the countertop.
Build your system or choose from our pre-configured Combinations
A well-planned garage begins with the cabinets, and Moduline offers an abundance of components – from base cabinets and closets to tool chests and filing cabinets – to create the perfect layout. To make things even easier, Moduline offers pre-configured cabinet combinations that can be ordered as-is or used as a starting block which you can modify to create the most efficient and effective workspace.
Select your Options and Accessories
Do you want cabinets that lock? Do you need some cabinets to have shelves while others need to be open? Do you want a Toe Kick Riser ™? Moduline has options for all our components – from cabinets to countertops. Many customers find that browsing our photo gallery of garages gives them ideas for organization they've yet to consider. That's another great reason to choose Moduline. If you haven't thought of it, there's a pretty good chance that we have. Click here for more information on the many options and accessories we offer.
Call One of Our Cabinet Experts
You may know exactly what you want or you may never have designed garage cabinets for your garage before. That's why we offer a full-service, customer service team that will take a personal interest in your project and help you understand your options. We encourage you to give our cabinet experts a call. They will help you with everything from measuring your space, to creating detailed CAD drawings, as well as show you ideas for layouts, designs, and options to make best use of your space. Call toll free 888-343-4463.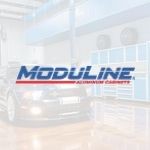 Moduline Cabinets
Moduline Cabinets provides military-grade aluminum cabinet solutions for car enthusiasts and professionals for over 30 years. Our designer appearance enhances garages and shops, and our cabinets stand up against the daily rigors of any environment.