Design Meets Functionality
November 5, 2016
Years ago your typical garage storage solutions consisted of some old cabinets you took out of your kitchen, some old mason jars, a plywood bench on 2 x 4's and perhaps a beat up toolbox that was passed down from grandpa or your dad. You thought to yourself, this works and is good enough.
Man, have times changed. As garages have become more of a main room of the home, it has become the norm to make them look as good (or better) as any other room in the rest of the house all while keeping the functionality you need to get all your projects done in an efficient manner. Forget keeping up with the Jones'. Now people will want to keep up with you!
Over the years, Moduline has become synonymous with high quality and beautifully designed garages. This is where form meets function. This is where beauty meets the beast. Our high quality aluminum storage cabinets are not only used in some of the most famous garages around the world, they are also being used by your neighbors, on board yachts, in commercial factories, military aircraft hangars and specialty vehicles alike.  Standard is our lifetime warranty, famous QuikDraw® latch system and modular design that allows you to create almost any cabinet system to meet your needs and space requirements. Our cabinet experts are here to help you with your design and layout. We're here to make suggestions and ensure you get exactly what you want. Whether it's one of our standard pre-configured cabinet combinations or a completely customized solution, we are confident there isn't a better garage storage solution out there and that you will be more than happy with your Moduline solution. Contact one of our specialists today and get Organized With Style!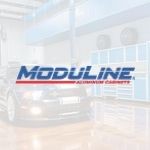 Moduline Cabinets
Moduline Cabinets provides military-grade aluminum cabinet solutions for car enthusiasts and professionals for over 30 years. Our designer appearance enhances garages and shops, and our cabinets stand up against the daily rigors of any environment.