Create the Right Amount of Storage Space
June 15, 2016
Creating the perfect amount of garage storage space may sound like a difficult task. However, creating storage space in any part of your home, including the garage, just got a lot easier, thanks to Moduline Cabinets. We are the storage specialists you have been looking for to put your storage worries to rest.
Here at Moduline Cabinets, we have been in business for over 25 years, constructing cabinets for trailers, specialty vehicles, garages, homes and business. Our cabinets are not the standard-issue cabinets you will find in your local home improvement store. Our cabinets are constructed of high-alloy, quality aluminum and made to meet specific standards to ensure their durability. Our aluminum cabinets include a lifetime warranty so you can do it right the first time. If you are tired of not having enough storage space in your garage, cheer up, we have the cabinets you need to make sure that you always have just the right amount of storage space.
The key to creating the right amount of space is examining the layout of your garage and creating a cabinet plan that fits within your garage. In other words, do not try to install enough cabinets for a three-car garage into a one-car garage. Just because your garage might be small, does not mean that you have no options. Work with what you have, and create functional space that fits the size and layout of your garage. We'll create CAD drawings so you can see what your cabinet system will look like and make sure our designs are congruent with what you had in mind. Have a look at some of our most popular garage cabinet combinations and then give us a call. One of our experts will assist you in choosing the right cabinets and designing the best layout for your specific garage.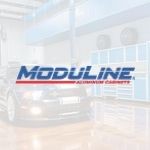 Moduline Cabinets
Moduline Cabinets provides military-grade aluminum cabinet solutions for car enthusiasts and professionals for over 30 years. Our designer appearance enhances garages and shops, and our cabinets stand up against the daily rigors of any environment.