Create Space Where There is None with Aluminum Storage Cabinets
October 6, 2012
Creating space where there is none may seem like an impossible task. After all, how can you possibly create something that does not exist? The answer is easy ? with Moduline Space Saver™ Sliding Door Garage Storage Cabinets. The installation of cabinetry lets you create ample storage space in areas that otherwise would never be used. For example, you can add Moduline Aluminum Storage cabinets to the walls of your garage, and now, with the Moduline Space Saver™ you can add storage cabinets on the side of garages close to the garage door rails and still open doors when vehicles are parked inside. Instead of having only enough space to hang some of your tools and equipment, you have enough space to store as many items as you want, both small and large.
Moduline Cabinets has everything you need to create space. We offer wide selections of aluminum cabinets that are ideal for garages, boats, trailers, and vehicles. Our modern designs and colors make our cabinetry useable for even the interior of your home – add some sass and flash to your laundry room with a set of cabinets or give your bathroom additional storage with a sink and base cabinet. Our storage cabinets are modular and come in various shapes and sizes, allowing you to create a precise design specific to your storage needs. Never again will you have to wonder where you are going to store an item. You can simply put it away in a secure storage cabinet. Call Moduline today and speak with one of our cabinet storage specialists to learn more about how to create space and organize your home and garage!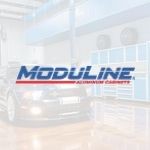 Moduline Cabinets
Moduline Cabinets provides military-grade aluminum cabinet solutions for car enthusiasts and professionals for over 30 years. Our designer appearance enhances garages and shops, and our cabinets stand up against the daily rigors of any environment.