Create Beauty with Garage Cabinets and Storage
January 11, 2014
Creating a garage that is not only functional, but beautiful may seem like an impossible dream. After all, if a garage is going to be used for working on cars and similar dirty projects, how can it possibly look great too? The answer lies in your choice of garage cabinets and storage. If you install the right cabinets and storage inside your garage, you will create a functional workspace that also looks appealing to the eye.
Here at Moduline Cabinets, we carry a wide selection of quality aluminum storage cabinets that are not only durable, but gorgeous. Our cabinets are constructed to the highest of standards with the highest quality materials, and they come in a wide range of stylish colors. We also offer a clear anodized aluminum finish that looks similar to stainless steel, but will not show finger prints like stainless steel. Our sleek cabinet combinations will help you create a beautiful workspace inside your garage – you can even order your cabinets in a custom color to match your car or décor. With Moduline's beautiful cabinets inside your garage, you can complete even the dirtiest of jobs in stylish comfort. You will find no better cabinets for your garage when you consider the beauty and style of Moduline Cabinets along with our lifetime warranty. Contact us today to order your custom cabinets!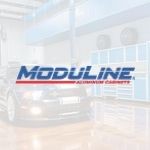 Moduline Cabinets
Moduline Cabinets provides military-grade aluminum cabinet solutions for car enthusiasts and professionals for over 30 years. Our designer appearance enhances garages and shops, and our cabinets stand up against the daily rigors of any environment.