Celebrate 25 years with Moduline and a Lifetime Warranty
August 24, 2013
To celebrate our 25 years in business, Moduline is offering *Free Shipping on Moduline manufactured products from now until September 30, 2013. Combined with our lifetime warranty, our commitment to great customer service and our dedication to making the best cabinet and tool storage systems on the market, there is no better choice and no better value than Moduline Cabinets. These professional grade cabinets with their designer appearance are perfect whether for your race trailer, specialty vehicle, garage, shop, dealership or hangar. Moduline will get you organized with style.
What started out basically as a hobby has grown into a multi-million dollar business with customers all over the world including professional race teams, all branches of the military, laboratories and homeowners alike. You can find our products on NASA projects, out in the middle of the ocean on oil rigs and in some of the largest companies in the world. It's because we have proven ourselves in the field that we can confidently offer you a lifetime warranty on our cabinets. We would also like to thank you, our customers and future customers for choosing Moduline and helping to make us one of the most sought after and most respected premium cabinet solutions in the world.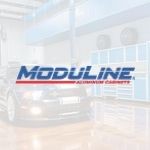 Moduline Cabinets
Moduline Cabinets provides military-grade aluminum cabinet solutions for car enthusiasts and professionals for over 30 years. Our designer appearance enhances garages and shops, and our cabinets stand up against the daily rigors of any environment.