Cabinets that Perform
June 7, 2014
If you are a "car guy" or "car gal" and want top of the line cabinetry to help create the perfect garage to showcase your investments, Moduline is the cabinet system for you. Why you ask?
More than a showpiece cabinet system, Moduline cabinets not only look good, they perform. There are some cabinet systems on the market that look the part and there are some that play the part. Moduline does both. The anodized aluminum frames along with the high-gloss finish give Moduline cabinets their unique style and brilliant appearance. There isn't a cabinet system on the market that captures a beautiful designer like appearance while maintaining a certain rugged feel quite like Moduline cabinets do.
But remember, looks aren't everything. Moduline cabinets are made tough. They have what it takes to stand up to everyday use in some of the toughest environments. Doors are double walled with inner-hat-bracing, hinges are full length, corners are reinforced and every cabinet has its own integrated frame. Computer aided design and controlled manufacturing along with hand assembly gives customers the peace of mind that their cabinets are the highest quality cabinets available. Oh, and they come with a lifetime warranty.
So if you're looking for garage, shop or trailer cabinets that are both the "Beauty and the Beast", contact Moduline today and let one of our trained cabinet specialists help.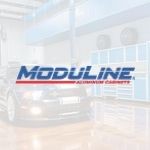 Moduline Cabinets
Moduline Cabinets provides military-grade aluminum cabinet solutions for car enthusiasts and professionals for over 30 years. Our designer appearance enhances garages and shops, and our cabinets stand up against the daily rigors of any environment.