Cabinets for Local Government
May 14, 2015
Just like federal agencies and the military, local fire, police and other municipal agencies all can benefit from using high quality storage and tool cabinets. Whether for tactical emergency response vehicles, mobile command centers or maintenance facilities, a high quality cabinet system can increase efficiency and help to make these dangerous jobs just a little easier.
Moduline aluminum cabinets have cabinets designed specifically for mobile operations which are lightweight, yet strong enough to handle these environments. With a Moduline aluminum cabinet system, vehicle weight is kept down allowing for better gas mileage and better overall vehicle performance. Each drawer unit is equipped with our patent-pending QuikDraw latch system which allows for drawers to open easily and ensures they stay shut while in transit. This innovative latch system allows for more drawer capacity than similar latches which allows for more items to be stowed securely away.
In a demanding, professional maintenance facility, you need professional grade cabinets and tool chests to make sure you're organized and can do your job efficiently and without worry. You'll have peace of mind knowing that Moduline cabinets come with a lifetime warranty and are built to last. You won't be replacing them in just a few years. Couple all the durability benefits with the distinctive designer appearance and you end up with one of the toughest and best looking storage and tool cabinet systems you can buy.
Call one of our cabinet specialists today and let us help you design your layout. You'll get the best service, best cabinets and government contract pricing. Moduline is a GSA contact holder and information is available on request.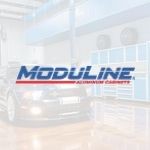 Moduline Cabinets
Moduline Cabinets provides military-grade aluminum cabinet solutions for car enthusiasts and professionals for over 30 years. Our designer appearance enhances garages and shops, and our cabinets stand up against the daily rigors of any environment.