Barrett-Jackson classic car auction
February 2, 2014
Well we're back and settled from Barrett Jackson in Scottsdale and what a great time. We met so many great people and of course were able to visit with old friends too. The layout of the show was a little different this year as they moved the auction tent closer to the main entrance but added more vendors overall. There are some things we liked and some we didn't like about the new layout but that's for a different time.
This year's booth was the same size as previous years but we had two different colors making up the layout. The black cabinet end was a Barrett Jackson favorite. This end had the refrigerator and sink built right in. The other fan favorite which gets everyone talking is the built in parts bin cabinet. On the far right end, we had the yellow cabinets which hosted a roll out tool box and the 12 drawer tool box. This side also featured the hanging light and hose reels by Reelcraft. By having two set up's in one, we were able to show the versatility of our cabinets in how they can of course be beautiful yet durable and functional. This was the first year we were able to feature the QuikDraw® Latch System and this was also very well received by everyone.
The days were long but the weather was great. It was an average of 10 degrees above normal temps for this time of year. I hope the same holds true for next year.
Thanks again to all who came by and talked with us and thanks to those who have already contacted us about getting their cabinet system put together. We look forward to working with you all. Thanks to Barrett Jackson as well for hosting a great event and we look forward to next year.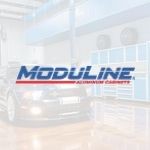 Moduline Cabinets
Moduline Cabinets provides military-grade aluminum cabinet solutions for car enthusiasts and professionals for over 30 years. Our designer appearance enhances garages and shops, and our cabinets stand up against the daily rigors of any environment.