Barrett Jackson Auction in West Palm Beach, FL
March 30, 2012
in January Moduline attended the Barrett Jackson Auction and Show in Scottsdale Arizona. This was the first time we were part of this series of auto events and have to say it will not be our last. We had a great time, met a lot of people, sold a lot of cabinets and will continue to be part of this series. Next week we will be attending the Barrett Jackson Auction in West Palm Beach, FL. This event is filled with automobile enthusiasts who appreciate quality as well as beauty. The attendees of these events have a deep appreciation for these traits and Moduline fits the bill perfectly. They understand that it matters what's in the garage. Let's face it; an exotic or classic automobile is more beautiful if it's in the right environment. Moduline Cabinets help make any garage or shop that much more attractive and efficient. If you're in the area, stop by and visit us at booth EH28 on April 5, 6 or 7 and say hello. We'd love to meet you and introduce you to America's premiere aluminum cabinet system.
If you are not able to stop by the auction and would like to get organized with style, choose the cabinets chosen by professionals and enthusiasts the world over, call us toll free at 888-343-4463.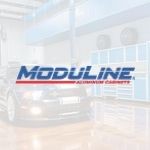 Moduline Cabinets
Moduline Cabinets provides military-grade aluminum cabinet solutions for car enthusiasts and professionals for over 30 years. Our designer appearance enhances garages and shops, and our cabinets stand up against the daily rigors of any environment.