Announcing the debut of Sportsman II Series by Moduline
March 23, 2016
The all new Sportsman II™ Series is an all aluminum cabinet system made for mobile applications. Our high alloy aluminum construction makes them strong and lightweight which qualifies them for GVW reduction and fuel economy. All drawers feature Our patented Single Action Latch System. These cabinets are perfect for mobile storage applications from Trailers to Yachts and all Specialty Vehicles.
Manufactured with the same quality materials and workmanship as our flagship ProIITM Series, the new Sportsman II™ Series by Moduline also offers high style and durability. They are available in red or white high gloss finish with a light gray frame to accent the main color. Sportsman II™ are simple to install. Overhead and drawer cabinets ship fully assembled, while base cabinets and closets require some assembly with simple tools.
Contact us today to learn more about our new Sportsman II™ Series and other choices of storage cabinets, and let one of our experts help you choose the best layout to fit your particular needs.
888-343-4463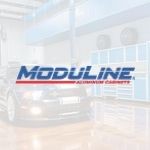 Moduline Cabinets
Moduline Cabinets provides military-grade aluminum cabinet solutions for car enthusiasts and professionals for over 30 years. Our designer appearance enhances garages and shops, and our cabinets stand up against the daily rigors of any environment.