Moduline Cabinets' Aluminum Material Compared To Other Cabinet Options
November 28, 2017
High end garage cabinets have become more and more popular over the last several years. More people are opting for luxuriously designed cabinets and storage systems for their garages. Some of the emerging options include wall hanging cabinets, mobile cabinets on wheels, and pantry style cabinets.
While stainless steel is a popular choice of cabinets, they are also very heavy and make it difficult to use in garage, shop, or mobile applications. The weight of the cabinets adds time to a trailer stopping for a stop sign or traffic light. Stainless steel cabinets may contribute to an accident as it makes braking difficult to stop suddenly with the added weight.
Aluminum cabinets appear to be the most on-trend option due to their futuristic and streamlined appearance. There are also other benefits to selecting Moduline's aluminum garage cabinets.
Here's some of their benefits: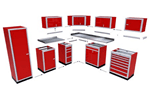 Modular Design – All of the pieces are designed for mixing and matching in any size space. There are limitless design possibilities to maximize a small or large space with our cabinet storage systems.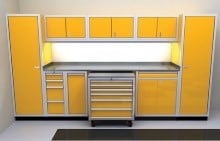 Strong Product – The modular design also adds a strength to the cabinets based on the double wall, and shared edges and corners. Aluminum is lightweight as a material, but with all Moduline Cabinets, our cabinets look as good as new after years of use and they last a lifetime.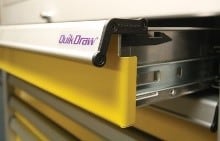 Innovative – Moduline Cabinets develops unique features for optimal ease of use. We leave no detail unchecked. Our newest innovations include QuikDraw™, a single action latch system where you can open a drawer with one finger, the Adjustable Toe Kick, and latches that do not show fingerprints.
Compared to Other Cabinets
There are other appealing cabinet types on the market, such as plastic and fiberboard. However, the drawback of choosing cabinets made from these materials are that they do not last. Many different materials are damaged due to moisture and heat. This is something to consider when purchasing cabinets and storage systems for the garage because often garages are not temperature controlled and may be more exposed to the elements.
Lifetime Guarantee
Moduline Cabinets offers a "Built to Last a Lifetime" guarantee on their high quality cabinets. Moduline is not a fan of hearing that products "aren't built to last anymore." Instead, we ensure quality with the assurance that one of our core values is quality. You can rest assured our cabinets are a once-in-a-lifetime investment.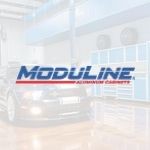 Moduline Cabinets
Moduline Cabinets provides military-grade aluminum cabinet solutions for car enthusiasts and professionals for over 30 years. Our designer appearance enhances garages and shops, and our cabinets stand up against the daily rigors of any environment.