Aluminum Cabinets – A Safe and Durable Choice for a Garage
March 23, 2013
If you have decided that it is time for new cabinets inside your garage, Moduline Cabinets can help. Our aluminum cabinets are designed for the unstable environment of garages. Wooden cabinets are never the ideal choice for the garage environment. This is because the garage environment experiences temperature and moisture fluctuations unlike that of your home's interior. Wooden cabinets are much more susceptible to moisture damage. Aluminum Cabinets are made to last a lifetime in the garage. Aluminum is a very strong and durable metal that is resistant to moisture damage.
With aluminum storage cabinets inside your garage, you will not have to worry about rotten wood, mildew, mold, and other problems associated with moisture damage. Moduline cabinets are resistant to rust and allergens, making them a safe and durable choice for any garage owner. You can mix and match the various sizes and styles of our cabinets to create a custom layout for your garage interior. Contact us today to learn more about Moduline Aluminum Cabinets and how we can help you organize your garage for a lifetime.
call toll free: 888-343-4463.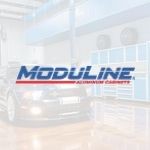 Moduline Cabinets
Moduline Cabinets provides military-grade aluminum cabinet solutions for car enthusiasts and professionals for over 30 years. Our designer appearance enhances garages and shops, and our cabinets stand up against the daily rigors of any environment.