All Cabinets are not created equal
September 7, 2013
Don't be fooled. When it comes to cabinets for your garage, not all cabinets are created equal. The fact of the matter is, there are so many different types of cabinets that it's easy to get confused. It's not hard to mistake good looks for quality or, on the other hand, think that a good-looking cabinet isn't tough enough for professional use. To that point, we've seen some really nice looking cabinets that are made from lesser quality materials and just don't hold-up to home use, let alone professional. We've also seen some heavy duty cabinets that quite honestly just don't have any aesthetic appeal.
Moduline has the answer. We have created a cabinet system that not only has distinctive good looks but is also durable enough to be used in some of the most demanding professional applications. The modular design allows for countless configurations to meet your space requirements while the durable aluminum construction allows Moduline to offer a lifetime warranty. The modern design helps your garage or shop look its very best and the combination of it all helps increase the value of your space.
Don't let any one factor fool you. You can have it all with Moduline Cabinets. Professional grade, designer appearance, lifetime warranty and delivered as promised.
A good place to start is by viewing our photo gallery of amazing garages with Moduline Aluminum Cabinets. Then you can view our suggested garage cabinet combinations to help decide what type of cabinet layout is right for your garage. Don't forget now to September 30, 2013 you can enjoy FREE SHIPPING* on Moduline Cabinets.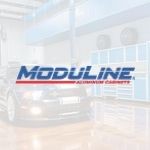 Moduline Cabinets
Moduline Cabinets provides military-grade aluminum cabinet solutions for car enthusiasts and professionals for over 30 years. Our designer appearance enhances garages and shops, and our cabinets stand up against the daily rigors of any environment.