16 Series Wall Cabinets
WATCH THE VIDEO TO LEARN MORE
Product video will be available soon…
STANDARD COLORS
Actual Colors May Vary From Website.
Modular and easy to install. Moduline aluminum 16 series storage cabinets are completely assembled modular units and install easily with simple tools. 

Extra rigid integrated aluminum frames with double reinforced corners and precision hardware (no welds to crack).

Manufactured from premium high alloy aluminum with high gloss finish.

Doors are double wall construction, with inner-hat-bracing for maximum strength and rigidity. Doors are manufactured using .063″ thick premium aluminum outside and .040″ thick premium aluminum on inner panels. Full length continuous aluminum hinges provide complete support to the door structure.

CAD and CNC assure precision cabinets providing a perfect fit.

Aluminum wall cabinets are highly resistant to mold, mildew, corrosion, discoloration and fingerprints.

Will not attract dust and will not cause static shock unlike plastic or resin.

Completely hypoallergenic: Moduline Aluminum Garage Storage Cabinets are constructed from materials that minimize the possibility of allergic response.

Low profile trigger latches keep doors securely closed and have a textured chrome finish that looks great. Latches are spring loaded providing a built in handle when unlatched. Latch guards protect mechanism on inside of door.


Lifetime Warranty
Height

Depth

Width

Part Number

Doors

Weight

16″

11″

16″

161116

1

9 lbs.

16″

11″

32″

161132

2

15 lbs.

All white aluminum construction. Save now currently on sale in the online store

!
Undercabinet Light Shields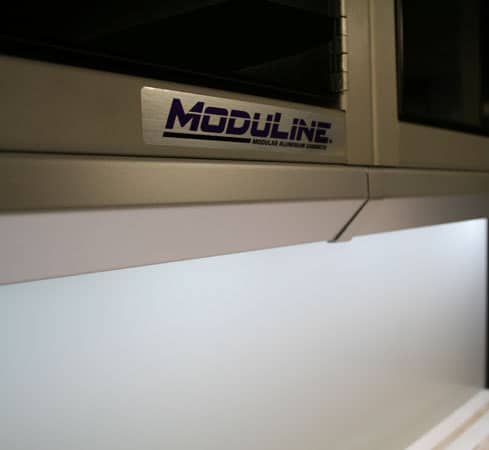 The perfect finishing touch to your Moduline cabinet system
Great for eliminating glare and helping direct under cabinet lights to the work surface
Manufactured from premium high-alloy aluminum with high gloss clear anodized finish
Works with and perfectly conceals our available LED lighting system
Easily installs under Moduline wall cabinets with included hardware
Light shield returns available for closing open ends to achieve a finished appearance