Contract: GS-21F-0013X
Cage Code: 3E5R7
Business Size: Small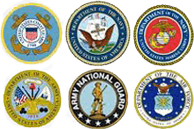 Moduline is an approved GSA contractor and our aluminum storage cabinets are available through the GSA Advantage Program.
Our cabinets are used by local, state and federal government agencies and all branches of the US Armed Services.
Features and Benefits
Complementary Design Services — Work one-on-one with a cabinet expert and create the perfect storage solution.
Customizable — Moduline can engineer custom cabinets to meet the demanding requirements of military applications.
Modular — A wide selection of standard components can be arranged to fit any space.
QuikDraw® — Patented, single-action latch system keeps drawers securely closed in transit without sacrificing drawer space.
Aluminum — Military-grade aluminum with a greater strength-to-weight ratio than steel—ideal for mobile applications. But don't mistake lightweight for light duty. Our cabinets are engineered for extreme strength and durability, with aluminum used in the marine, aerospace and automotive industries, to name a few.

Corrosion Resistant — Anodized aluminum has superior corrosion resistance to steel—great for harsh environments.
Made in the USA — Moduline proudly manufactures all our products in America
Exceptional Customer Service
Lifetime Warranty
Check out our PROII™ Series for stationary applications, PROII™ Mobile Series for anything on wheels, or find inspiration in the Customs Photo Gallery for customized storage solutions.
ARE You Ready to Get Started?
We have a team of customer service experts ready to assist you today!