A great race weekend in Gainesville, Florida
March 14, 2011
To say the least it was a fast weekend. New alcohol funny car class records for speed and ET were set.
The Moduline Mustang, with Paul Gill at the controls, was the picture of consistency. Running ever quicker while boosting his mph all weekend; Paul and the Moduline team were able to beat the record setter, Frank Manzo, in round 2 on Sunday morning and move his way to the finals.
After solving a couple of problems that only show up on race day, the Moduline Mustang lost the final round in a close race against Mickey Ferro. It was a great battle for the entire ¼ mile.
The long winter's worth of work has paid off for the team. Many long nights this winter are showing the signs of success. Racers, and those who support them, are the only people who know how many hours go into making something as complex as a race car go from point a to point b; in the right amount of time and at the best speed. We salute the dedicated crew that works and maintains the Moduline Mustang. From the guy on his back changing rod bearings to the girl packing the parachutes, Paul has organized a great group of people to race this car.
It's those same organizational skills that have allowed him to build Moduline cabinets into the premier aluminum garage cabinet manufacturer. He has assembled a team of quality and service oriented pros to help you with all aspects of your cabinet selection. From initial discussions, to design and finally assembly, the team is here to work with you. For your trailer, vehicle, or garage, we have a line of premium aluminum storage cabinets for you.
Start your organizational search with the pros at Moduline. Call our toll free number, 1-888-343-4463; talk to our sales professionals and find out how easy they can make the process.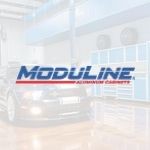 Moduline Cabinets
Moduline Cabinets provides military-grade aluminum cabinet solutions for car enthusiasts and professionals for over 30 years. Our designer appearance enhances garages and shops, and our cabinets stand up against the daily rigors of any environment.