A Garage to Make You Proud
February 15, 2014
When you look at your garage cabinets, are you happy with what you see? Do you see strong, durable cabinets that bring a certain level of style to your garage? Do you see worn, damaged cabinets that make your garage look like a dump? If you are not pleased with what you see when you look at your garage cabinets, let Moduline Cabinets change the way you see things, with our high quality aluminum cabinets.
Cabinet design and construction has been our specialty for many years. In fact, this year we are proud to celebrate 25 years in business. Combine our experience with a lifetime warranty, commitment to great customer service and dedication to making the best cabinet and tool storage systems on the market and you will find no better value than Moduline Cabinets.
Today, we make cabinets not only for enclosed trailers, but for specialty vehicles of all types. We also make cabinets designed specifically for the garage environment. Each one of our cabinets is constructed to exceed industry standards, as well as our own stringent standards. This ensures the quality of each cabinet we manufacture.
Our cabinets are available in many different styles and sizes, which mean you, will have no trouble creating a cabinet layout to fit your garage. You can also choose from many colors, to ensure that your cabinets reflect your personal style and look sharp on your garage walls. When you look inside your garage, you should be happy with what you see. You should see a space that is welcoming and efficient, a space that you enjoy working in, a space that makes you proud. Moduline Cabinets is here to make sure that your garage is everything you want it to be and and so much more.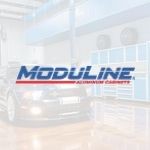 Moduline Cabinets
Moduline Cabinets provides military-grade aluminum cabinet solutions for car enthusiasts and professionals for over 30 years. Our designer appearance enhances garages and shops, and our cabinets stand up against the daily rigors of any environment.