4 Essential Cabinet Components for a Race Trailer
April 19, 2014
A race trailer requires storage cabinets to house all of the tools, spare parts and other components that are needed for the car or bike to which the trailer belongs. You want these storage cabinets to look good, but they also need to be very durable to survive the journey from race to race. This is why lightweight modular aluminum cabinets from Moduline cabinets fit the bill. With the cabinet brand chosen, the next thing to do is to choose what configuration of cabinets is needed. Below, we list 4 essential cabinet components for your racing trailer.
The drawer unit. The drawer unit features multiple aluminum drawers. They have the QuikDraw® Latch system, which allows you to easily open the drawers by lifting anywhere along the handle to release the secured double latch. So easy you can open a drawer with just one finger. The latch keeps the drawers shut when the trailer is on the move. Drawer liners and aluminum drawer dividers are available to help organize small items and tools within the drawers.
Uppers. Uppers or wall cabinets add to the sheer amount of storage space without really sacrificing any room inside of the trailer. This works out well in a small space, since up and above are usually the only areas left to store things. Each cabinet has a trigger latch that keeps the doors securely closed when in transit.
Lowers. The lower or base cabinets are essential for storing large tools and parts for the car or bike. They can be assembled in any configuration within the confines of the trailer. These aluminum base cabinets ensure that all equipment is protected during transit, plus they are incredibly durable.
Aluminum countertop. The aluminum countertop is durable and very easy to keep clean. It allows you to have a comfortable space to work inside your trailer and because it is aluminum, it is durable yet light in weight.
For more information on our selection of aluminum cabinets for a trailers or workshops, contact Moduline Aluminum Cabinets.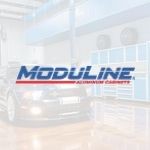 Moduline Cabinets
Moduline Cabinets provides military-grade aluminum cabinet solutions for car enthusiasts and professionals for over 30 years. Our designer appearance enhances garages and shops, and our cabinets stand up against the daily rigors of any environment.